Figuring out a way to surprise her was going to be hard. She was with me when I started shopping for an engagement ring and that was probably one of the smartest decisions I made…other than asking her to spend the rest of my life with me. I knew she wanted something unique, something different that really stood out, just like she stood out for me when we started dating. I wanted that ring to remind her every day of my love and devotion.
When we got to Goodman's Jewelers, she spent a lot of time searching out the diamond style, from a Cordova to Whitehouse Brothers to something from the Naledi Collection. They were all fantastic diamonds and she was certain there was a unique engagement ring for her. She offered some ideas and, at some point, without her around, I went back to Goodman's and they helped me wow the woman of my dreams!  Goodman's made her ring something that is so very special, taking several of her ideas, creating a unique ring that I felt was exactly what she wanted. What they created was amazing…something I had never seen.
But, the tougher part would be when to give it to her!
Christmas was right around the corner. I knew her. I knew she would expect it Christmas morning. We had opened all the presents and turned to the stockings where she smirked, thinking the ring was inside hers. But, it wasn't. I left a brand new iPod Shuffle in there. I could see the disappointment in her eyes until she looked at my eyes and then my hands and saw the ring there.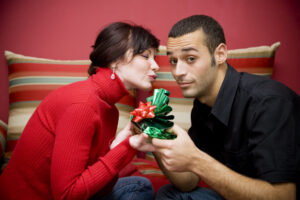 Her joy was all I wanted for that Christmas morning. I couldn't have done it without the fantastic folks at Goodman's!
Tell us your Story Behind the Moment! Creating remarkable memories for generations of customers…the diamond store of Madison, the best is at Goodman's!
Read More