It's the little colorful case with the great big heart. Perhaps because it doesn't take up a great deal of real estate in our store, many people miss it on their first walk-through. Which is interesting, because the stunning stones in this jewelry look a little like electrified lava. It's also unfortunate because the company behind this jewelry gives a sizable chunk of their proceeds to help impoverished women.
Sarah's Hope Jewelry was started right here in Dane County by Middleton resident Sarah Smith, though the line is now sold in select stores across Canada and every state in the Union. Sarah is both a businesswoman and a studied theologian, who believes in the simple mantra that "charity begins at home." She started Sarah's Hope in 2004 with the goal of helping others reach their dreams. Specifically, she aimed to help poor women in oppressive circumstances by helping them help themselves.
Whatever wretched conditions you might imagine when you read "oppressive circumstances," you're spot-on. Because we're talking about things like child prostitution. We're talking about domestic abuse. We're talking about the gutting kind of poverty found in third-world nations. And we're talking about homeless teens on our own streets, at high risk of becoming trafficked. Sarah's Hope gives ten percent of all profits—the standard amount for Biblical tithing—toward small-business training, microloans, and other business development opportunities for just such women.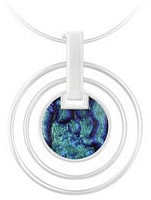 The jewelry in the Sarah's Hope line boasts a proprietary stone called E'Sperene. A composite of quartz crystals and metal oxides, it forms swirls of vivid colors that shift in the light.
If you read our blog last week, you know that Sarah's Hope is pulling double-duty this year. They are continuing to share their profits as usual toward helping impoverished women, but they're also sharing a percentage of proceeds with . This nonprofit serves as Dane County's only respite-care center for families of children with special needs. Needless to say, their services—all free—are in high demand.
If you have someone on your Christmas list that bristles at the empty excesses of holiday gifting, we think Sarah's Hope is a wonderful choice. It's a way to give to that person while also giving to others. It's a gift with real heart, real meaning, and real impact. The fact that it's beautiful doesn't hurt either. So, stop by the store and ask to see the little colorful case with the big heart. We're the only jeweler in Madison that carries the line, and we can't wait to show it off.
Read More