In case your mother or grandmother never told you, there are two staple items that belong in every woman's jewelry box: a string of pearls and a pair of diamond stud earrings. Both are fun to receive. Yet there's something extra special about receiving something sparkly this time of year, so let's talk about the diamonds. But first things first: Right now you can buy a pair of gorgeous, quality diamond stud earrings at Goodman's starting at $119. Now read on to learn more about why you should!
Play Well with Others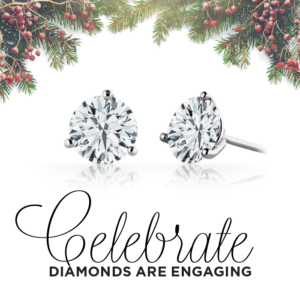 Diamond stud earrings play well with lots of clothing styles—from business to cocktail to formal attire—and with most other jewelry pieces. (The latter can't be said of a strand of pearls, by the way.) You could think of them as the jewelry equivalent of the little black dress, of the crisp white shirt, of your favorite going-out jeans. They never go out of style, and you'll get far more mileage out of them than most other things you wear.
Just the Right Amount of Significant
Maybe it's not yet time to buy the diamond engagement ring, or maybe you've already tied the knot. Whatever the case, if a diamond ring isn't on the agenda this year, that definitely does not mean that gifting a diamond should be off the table. On the contrary, diamond stud earrings are a gift that can be significant or even symbolic but without the pressure that can be attached to a diamond ring. When she sees those diamond studs in the box, the recipient knows she's cherished, no strings attached.
Not Just for Women
The times, they are a-changing, and no longer are diamond stud earrings the domain of just women. From David Beckham to Will Smith to Pharrell Williams, men are sporting them more, too—and, yes, in both ears. So, women, if you're man is on the trendy side and has the confidence to pull off diamond studs, come see us!
Read More