"And when we went to dinner you wore blue jeans with your pearls.
That's when I knew you were my kind of girl."
—Collin Raye, "My Kind of Girl," 2005
A couple of years ago, during the infamous Fashion Week in NYC, stylists came out wildly abuzz about pearls. They were pairing pearls with leather. Pearls with heavy chains. There were blood-purple pearls. Grapefruit-orange ones. Pearls were strung together with rhinestones. They were grouped in piles of strands as thick and heavy as mooring rope. The way fashionistas talked about pearls, you'd have thought they'd discovered them.
After the glitter dust of Fashion Week settled, pearls didn't fall back into the shadows of the style world.
That's because they never lived there. Pearls have always been, and always will be, a staple jewelry item. With their soft luster and classic beauty, they play well with darn near every style, from the country club to the rock concert, and from Grandma's décolletage to the pretty little ears of your bridesmaids. So, yes, Fashion Week marched them out on the runways, but pearls didn't really need help getting there.
And yet…
Fashion Week did manage to shatter some myths about pearls, mainly that they come in only shades of white, charcoal black, and champagne pink. In reality, Mother Nature also makes pearls in blue, green, and sometimes even purple.
Ever seen red pearls?
We're talking gleaming, luscious, candy-apple red. (Make that Badger-red, for you sports fans out there.) In honor of Valentine's Day, we gave away a strand of these scarlet beauties along with matching earrings to one lucky winner, at a combined value of $230.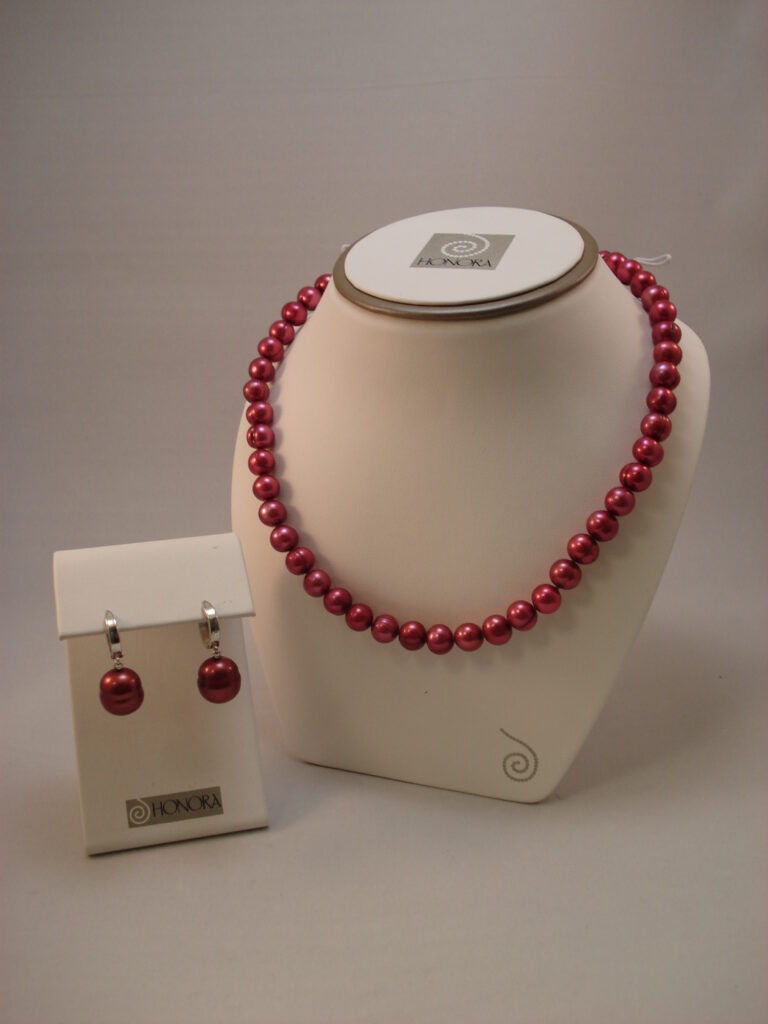 Our red pearls come from Honora, a pioneer jewelry designer that has perfected a process of infusing a wild array of colors into pearls. These are colors that, until recently, had never been seen in pearls—everything from navy blue to teal to melon tones and even gold. You can pretty much get the rainbow.
Pearls are the Rolling Stones of the jewelry world.
They're classic, timeless, and don't need help from trendsetters to take their rightful place at center stage. Come check out these classic beauties—with a new twist—in our store and get a firsthand look at those scrumptious red pearls that make for the perfect Valentine's Day gift!
Read More