They're Your Best Girls…Show Them the Love!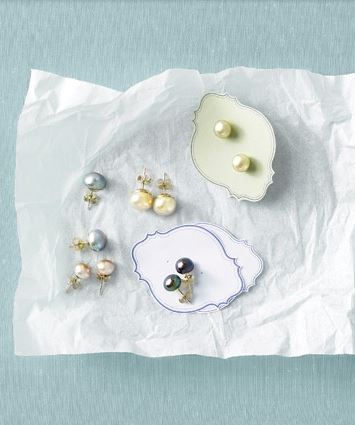 You've found the perfect dress, veil, lingerie, favors, venue, menu, baker, florist, band, and let's not forget the man, but something is still missing. What could it be? The pedicure appointment? The champagne flutes? The limo? Nope. All good there. Hmn. What—or who—could it be? Oh, yeah, it's those gal-pals you've asked to stand at your side during the ceremony! They're the same ones who've stood with your during other big moments in your life, high and low. You'll definitely want to have something to give them to show them your gratitude. Here are a few tests to guide you when you're shopping for bridesmaids' gifts:
The Litmus Test. Ask yourself whether the gift you're contemplating is something you yourself would like to receive. If it isn't, keep looking. (Monogrammed silver fortune cookies are cute, but would you want one?)
The Test of Time. A bridesmaid gift is not just a token of appreciation. It's also a wedding remembrance. Look for non-consumables that will last, both in quality and style, for many years to come.
The Leftovers Test. Is your gift-buying budget based on whatever money you have left after getting everything else for the wedding? Leftovers are not what we toss to our friends. Be thoughtful and deliberate when deciding how much you should spend. (See #4.)
The Test of Proportions. Consider what you've asked of your bridesmaids financially—airfare, hotel, dress, shoes, gift, etc.—and let that guide your conscience. You don't have to do a tit-for-tat, but if they're spending hundreds of dollars to be part of your wedding (and they probably are), it would be ungracious to give them, say, a box of chocolates or scented candles.
The Tunnel-Vision Test. Even if you're no bridezilla, it's normal to get tunnel vision when planning a wedding. Ask yourself if the gifts you're giving are truly for your bridesmaids or are just another part of your grand plan for a beautiful wedding day for you. In other words, do your friends really all want satin drawstring satchels that look great with the dresses but nothing else in their wardrobe?
A few other things before you buy: Remember that the maid-of-honor usually gets something a little more substantial, since she's the one planning the shower and bachelorette party. And remember that you have lots of time to shop for bridesmaid gifts. Typically, these gifts are given at the rehearsal dinner, unless you're having a bridesmaids' luncheon. Either way, we're talking a day or two before the wedding, so take your time. But don't wait until the last minute, or you're not likely to pass any of the above tests!
P.S. Like the pearls in the pic? We carry them! Honora offers a lovely selection of pearl earrings, bracelets, and necklaces in 16 different colors, one for every taste. Pearl jewelry is classic, and it passes all the tests!