Just around the bend: opening day for public swimming pools. As you're digging out your swimsuits and pool noodles, or jaunting off to Target to get the kids a new pair of flip-flops, there's one swim-season to-do item you might not even have on your list. It could be one of the most important ones of all.
Create a safe space and a routine for storing your gold jewelry when you swim!
Most people don't remove their wedding rings before jumping into the pool or the hot tub, and that's a potentially costly mistake. Jewelry that's been worn again and again in chlorinated water is a ticking time-bomb. Why? Because chlorine has a damaging effect on the structural integrity of many metals.
Chlorine can literally crumble your jewelry!
There have been studies that show gold jewelry soaked in chlorine bleach will begin to develop hairline cracks within a very short period of time—as little as a few hours. This cracking is due to a chemical reaction NOT between the gold and the chlorine but rather between alloy metals and the chlorine. (Pretty much all gold jewelry contains alloys, because gold on its own is too soft for wearing.) At any rate, complete disintegration of the bleach-immersed jewelry occurred within three days. The metal just flat-out crumbled.
If you're thinking, I'm not soaking in bleach, I'm just taking a quick dip in a pool, think again. Over time, the corrosive effects of the chlorine in that pool or hot tub can and will deteriorate your gold jewelry.
Remember this hot-tub owner's wedding ring that we wrote about last year?
She's lucky she found that stone!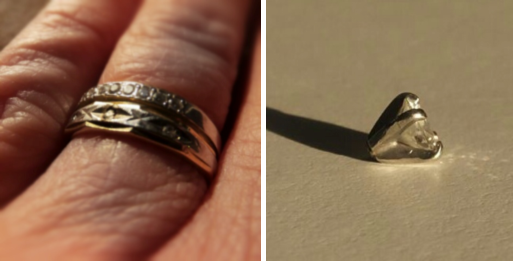 Don't worry about the tap-water chlorine!
While low amounts of chlorine can be found in tap water, don't concern yourself too much about that. Jewelry is meant to be worn and enjoyed, and the minor amounts of chlorine in tap water aren't consequential enough to be a worry. Yes, tap water may be among the culprits that weakens or thins the prongs on your settings, but the prongs were never meant to last forever. (That's why we advise getting your setting checked twice a year.)
The higher the karat, the more resilient gold jewelry is to chlorine, but we say: don't take any risks with your most precious jewelry. Have fun in the sun, cool off in the pool, but have a safe place to keep your gold jewelry, and get in the habit of using it!