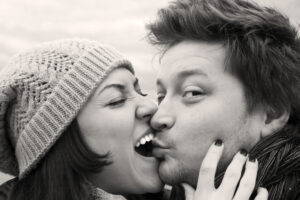 How many different ways are there to propose? Probably too many to even count! The moment itself is priceless and is supposed to be unforgettable. The moment becomes a story you tell your friends, your family, your kids, your grandkids and anyone else who will listen. There are, of course, those proposals that some would like to forget…you know the ones I am talking about – she still said yes, but it wasn't what was planned. These could be, though, the best stories…filled with laughter and tears and, in the end, a strong bond of love.
There are plenty of engagement ideas out there you could choose from that would make "the story behind the moment" so unforgettable. If you want it to be public, what about hiring a skywriter? You could do it on a plane when travelling, asking the flight attendant to help you out by letting you use the plane's speaker system. Here's a great one: buy an ad at the movie theater and get there during the previews…making sure she notices, of course!  How about the private story behind the moment? While she's sleeping, gently put the ring on her finger, wake her with champagne and see if she notices the ring. Place photos of you and her as children growing up in different parts of the house and have her find them with the last photo being the two of you together as adults and the ring box in front of it. Or, replace her everyday jewelry one day with that special engagement ring that took you so long to pick out!
There are so many stories behind the moment that we want to hear them from you! Do you have a story to share and want to let us share it with the world? Write it out and send it to goodmansjewelersmadison@gmail.com. We will share those stories here in this blog and also on Facebook!  If you want it to remain anonymous, that is perfectly OK! We will share it without names and will change locations to protect privacy…but, your story behind that very special moment will be something you can always share and make others smile…and maybe offer some ideas to other couples hoping to make a moment that matters!