Recently American Greetings hit an advertising home run with this viral video about being a Mom. They weren't the first to call motherhood the toughest job in the world. But the comparison used to use job in the sense of toiling. Lately—as you'll see in the ad—it's been job in the sense of employment. Salary.com even has a study showing what wages mom would receive if she were paid fairly for being some sort of 17-armed, 6-headed combination of accountant, chef, psychologist, chauffeur, housekeeper, nurse, and so on.
To be honest, we're not sure these comparisons with for-pay work do justice to motherhood. A job isn't even in the same league as motherhood, is it? No job in the world is as consequential. Nor do any of them come without pay. Calling motherhood a job is like calling the ocean a swimming hole.
We know it's all meant to show how priceless moms are. You can tell because the numbers get so ridiculous, like infinity times magic plus divinity to the seventh power. (Nope, still doesn't do motherhood justice!) At Goodman's, we're not even going to attempt such math. Instead, we humbly offer a way for people to capture it in a token of love. That's what our motherhood jewelry is all about: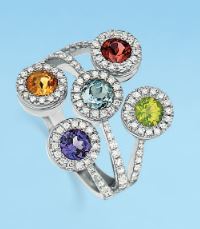 With a birthstone for her every child, a mom gets a beautiful token of what lies in her heart. We think every mom should have that. Whether a bracelet, necklace, ring, or brooch, these pieces are as treasured as any engagement ring, sometimes more so. (One of our customers even wears her custom mother's ring instead of her wedding set. She said the mother's ring was a much truer reflection of her bond with her husband than any engagement ring ever could be.)
Mother's Day is just around the corner, on May 11. Forgo the vase of flowers this year. Don't make this just another Mother's Day! Come visit us to see what beautiful symbols of love you can create for a woman whose importance cannot be measured, whose work is without comparison.