We had a visit last week from a wonderful young lady named Kendall, planning her wedding, who needed her turquoise-and-diamond engagement ring re-sized.  As the jeweler was congratulating her on the engagement, Kendall unhooked her thumbs from her belt loops to give a gentle squeeze to her fiancé, Brad. "We're not going to be a YouTube sensation or anything, but that's not how we roll. It was really perfect."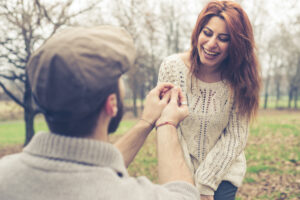 When Brad visited our store in January, he himself mentioned he wasn't a showboater. He said he didn't like limelight and "couldn't write a haiku if his life depended on it." (Kendall holds a degree in Asian studies and minored in creative writing.) His sister had sent him a bunch of different proposal videos on YouTube, and there was something in the way he pantomimed choking himself that told us he wished she hadn't. As Kendall put it, that's really not how he rolls.
In the age of proposal videos gone viral—taking to the big screen, enlisting flash mobs and marching bands, and dressing up like Peter Pan—it's a bit of a pressure-cooker for guys like Brad. The message men are getting is that the more original and more extravagant the proposal, the more worthy the guy. But we all know better than that. Happy marriages aren't built on viral videos. In our shop, we like to remind customers that "spectacular" doesn't necessarily mean showy or expertly produced.
Last year, a British custom jewelry design company conducted a study of married couples, revealing that one-third of the women were disappointed with the way their husband had proposed.  (Take heart: They clearly still said yes!) Rather than confirm your fears that you've got to do something YouTube-worthy when you propose, the study shows that women aren't expecting all that much, just something that showed heart. Certainly none of them were asking or a flash mob or a video production crew:
The majority said they were disappointed with the location of the proposal and wished it had been in a more sentimental place.
A quarter of them said they would have liked more romance.
A quarter of them said they would have preferred it be more of a surprise.
Seventeen percent said they would have liked the moment to be more personal, showing their partner really gets them.
Look at the woman you love and ask yourself: What are some of the places she loves to be, wishes she could return to, or wants to visit? What things in movies or books has she found romantic? What's here favorite movie/flower/dinner/book/etc., and how could I incorporate something of these thing in my proposal? Take pen to paper and study those bullet-points up there. You'll see that you can plan a proposal that may not dazzle the Internet but will certainly dazzle her.
For Brad, turns out he didn't need to write a haiku. Instead he found a dog-eared page of translated Japanese poetry in one of Kendall's old books from college. He took a photograph of the ring he'd chosen at Goodman's Jewelers and bookmarked that page with it. Then he slid the book across the table at their favorite coffee shop, asked Kendall to open it, and got down on one knee as she read:
My keepsake—
Look at it and think of me,
and I will love you
through the long years
strung out like beads on a string.
It wasn't just the proposal Kendall loved; it was also the ring, which incorporated the turquoise of her home state of New Mexico. Which brings us to one final point you probably already suspected: Many of the women in the study said the engagement ring was what disappointed them. Specifically, they would have preferred a larger gemstone, a different band shape, or a higher-quality ring. So, in our next blog, we'll offer some advice on how to find the just-right ring. It's not as hard as you might think, and it will mean so much to the woman you want to marry!