Much has been written over the centuries about love and a proposal for marriage, but we're pretty sure we've got an original. Love fears not polar vortexes! Earlier this month, we got a firsthand look at what happens when sub-zero temperatures try to thwart a man on a mission to propose marriage.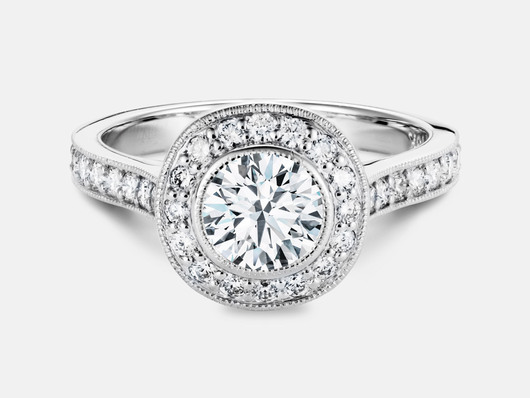 With frostbite warnings being issued by the National Weather Service, we weren't expecting a lot of customers during the polar vortex—maybe a watch repair, and two customers scheduled to pick up rings they brought to us for resizing after the holidays. Nobody would be shopping for engagement rings, right? Well, as Harry put it in the film When Harry Met Sally: "When you realize you want to spend the rest of your life with someone, you want the rest of your life to start as soon as possible!"
Eric walked into our store dressed in more layers than lasagna. As he was pulling off his layers he said, "I'm looking for an engagement ring." Eric had made his mind up two months earlier to ask his girlfriend of two years, Melissa, to marry him. And for weeks he'd been collecting intel on her jewelry style while trying to decide how and when to propose. It was all in the works, he just needed the ring.
"Melissa and I were watching the weather forecast, and she said her co-workers had been joking that there were going to be a lot of babies born in the Midwest nine months from now." (Hey, there's something to be said for major storms leading to babies.) But then she added something that turned on a light bulb over Eric's head.  "She told me, 'I don't think storm babies come from boredom. They come from romance. Nothing more romantic than a little power outage.' She also said she thinks it's a cool story to hand down through the generations—to have some sort of connection to the Great Storm of XYZ. And that's when it hit me that the polar vortex was the perfect place to propose!"
Eric explained that Melissa is actually from California and thinks of our winter storms as an adventure. We asked him to tell us a little more about this adventurous thing, and it was clear that Melissa is a very active gal. She loves the outdoors—hiking, camping, and climbing. She's athletic. Eric said she wouldn't want a "clunky ring" that she'd have to worry about catching on things, but he didn't want that to translate to a small diamond because he knows she also likes sparkle. Melissa also has small hands, and Eric said he'd often hear her say that rings always look "cartoonishly big" on her fingers. One thing he was certain about: She didn't want to shop for rings with him. "She's very clear that she thinks it's more romantic to be surprised by a ring."
We steered Eric toward the low-profile styles and helped him find what he wanted: a round brilliant cut with marquis-cut side diamonds. Not too big. Not too delicate. Lots of sparkle. We were excited to meet Melissa. Last week when she came in to get the ring sized down just a hair, "This ring is so me," she said. "I can't believe Eric found it all by himself."  We also got to hear the rest of the proposal story. Where did Eric put the ring? Inside a little matchbox he pulled from his pocket when the power went out.
Whether it was Eric or the polar vortex that knocked out the power is anyone's guess…