Diamonds as symbols of trust, pearls as symbols of wisdom, gold bands as symbols of eternity. No two ways about it, jewelry is full of symbolism. But sometimes it's more than the stone or the metal that holds the meaning. That's certainly the case with Sarah's Hope Jewelry, which nurtures the ambition and capacity of women around the globe—specifically those with steep climbs. These include former child prostitutes, victims of domestic abuse, and women living in some of the most impoverished areas of the world.
Sarah's Hope was actually started right here in Dane County by a businesswoman and studied theologian named Sarah Smith. Her line of jewelry is now sold at select stores internationally. (In Madison, you will find it only at Goodman's.) Ten percent of all proceeds from Sarah's Hope jewelry sales go toward small-business training, microloans, and other business development opportunities for women working hard to rise above incredibly tough circumstances.
The jewelry in the Sarah's Hope line is immediately recognizable due to the organization's proprietary stone called E'Sperene. No other jewelry has it. This composite of quartz crystals and metal oxides forms a swirl of exceptionally vivid colors that shift beautifully in the light. Not only are they distinct in appearance, but they also have distinct stories. Every piece in the line is inspired by and named for one of the women that have been helped by Sarah's Hope, including:
The Eneyda (Eh-nay-da) design. Eneyda is a children's clothier in Nicaragua. She started her business in 2001, saw high demand for her goods, but needed financial help to begin purchasing fabric in bulk. She received a microloan from Sarah's Hope. With increased profits, she has repaired her home's roof and plans to get a second loan to purchase a new sewing machine. The unique double-strand chain on the Eneyda necklace is  meant to symbolize how her family is stronger from joining together.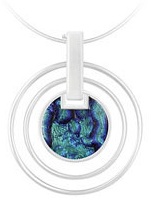 The Etayehu (ee-Tah-you) design. Etayehu is a political refugee from Ethiopia who lives in the United States. Sarah's Hope helped her with small business training, which she eagerly sought in order to support herself and her young sons. Combining this training with culinary skills she learned as a child, she now sells organic Ethiopian cuisine through her catering company and local farmers' markets.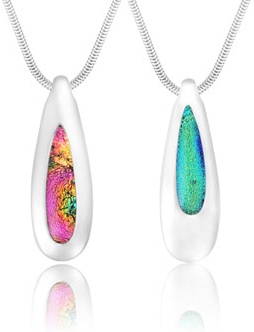 The Tyciala (ta-SHAY-la) design. As a runaway from an abusive home, Tyciala was exploited into child prostitution at the age of 12. She was eventually jailed and bounced around the foster care system for many years. With the help of caring mentors, she found hope, returned to school to earn her GED, and enrolled in college. Now 21, she is working as a waitress, raising her two young children, continuing pursuit of her business degree, and receiving small business training, in part with the help of Sarah's Hope. She has drafted a business plan to open a facility for runaways and prostitutes, knowing all too well what things do and don't work in helping this population.
Because 2014 marks the tenth anniversary of Sarah's Hope, we really can't think of a better way to ring in the new year than by this organization. We're proud to carry Sarah's Hope jewelry. We invite you to come see their colorful pieces in our store to fully appreciate their beauty and symbolism. Wouldn't it be great to know that you could help improve the life of someone across the world by buying a truly unique piece of jewelry that comes with such a great story of hope and love?