The view from the Goodman's Store window on State Street this time of year: UW students bustling up and down, hauling bags, boxes, totes, bikes, and the occasional piece of furniture. A girl dressed head to toe in red, black, and white walks by with a guitar case turned suitcase: There's clothing bulging out one side. Parents of students walk arm in arm. It's not just the moms with red-rimmed eyes. The street performers are getting a little more coin for their work. The coffee shops are brewing more batches.
Down here, where the energy is always alive, you can feel the energy mounting higher. And in less than two weeks, it's going to burst open about a mile up the road, in the stands of Camp Randall Stadium. Forget the fact that school's about to start: It's Badger football time!
We've got Badger fever bad and want to wish our Badgers a stellar season, one for the books. Also, we want to give them a huge pat on the back for the wonderful Football Family Fun Day this past Saturday. It's a great Madison tradition, and so exciting to get a first look at the players—veteran and new—who will be out on the field this season. Lots of players on bended knee, signing autographs and getting pics with the littlest Badger fans. It's pretty great to have a team that loves on its community the way the Badgers do.
The Badgers open their 2014-15 season with an away game against LSU in Houston on August 30. You'll have to wait for September 6 for their first home game. Once you're done counting down the days, we've got the perfect way for Badger fans to count down the hours: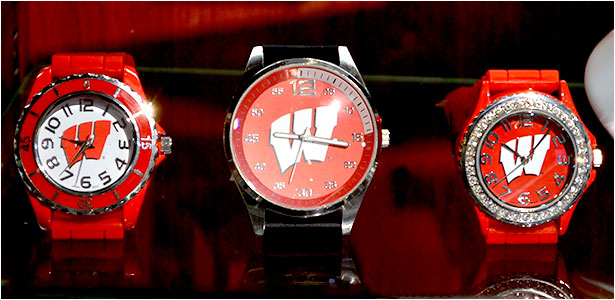 For these and other UW Badger jewelry, stop by and see us. We carry lots of officially license UW logo jewelry items: gold and sterling silver pieces with Bucky Badger, Motion W, and Numen Lumen seals. Now, let's get behind our Badgers and watch them dominate! U-Rah-Rah!!!