For many couples, a diamond engagement ring is their first purchase of anything appraisal-worthy. But in the excitement of wedding plans and honeymoons, that whole appraisal thing often gets shoved down the priority list or overlooked for months. Before you tsk-tsk the young ones who don't get their pieces appraised, ask yourself this: When's the last time you had your fine jewelry appraised?
Jewelry appraisal is not a one-and-done affair. It should be done routinely, about every 2-3 years. After all, fine jewelry is made from materials that fluctuate in value, sometimes wildly, based on global market conditions. Inflation is a factor, too. So are style trends. Take, for example, the marquis cut that peaked in popularity around 1990. Take also the fact that colored center-stones in engagement rings have recently enjoyed more popular appeal.
Sometimes major game-changers happen in the market that should lead you to get a new appraisal before 2-3 years have passed. Take, for example, what China has done to the diamond market since 2010. As the country's middle class has been growing and flourishing, so has their fascination with diamonds. In fact, Bloomberg News recently reported that China has been the world's second-largest diamond-buyer since 2011. With China clamoring for diamonds, prices of the big, well-cut ones shot up nearly 40 percent at one point! Now imagine if your diamond ring was lost or stolen during the year of that price spike. Your insurance—based on your out-of-date appraisal—wouldn't begin to cover the cost of a replacement!
Still not convinced? Take a look at what's happened to the prices of gold and silver over the past decade: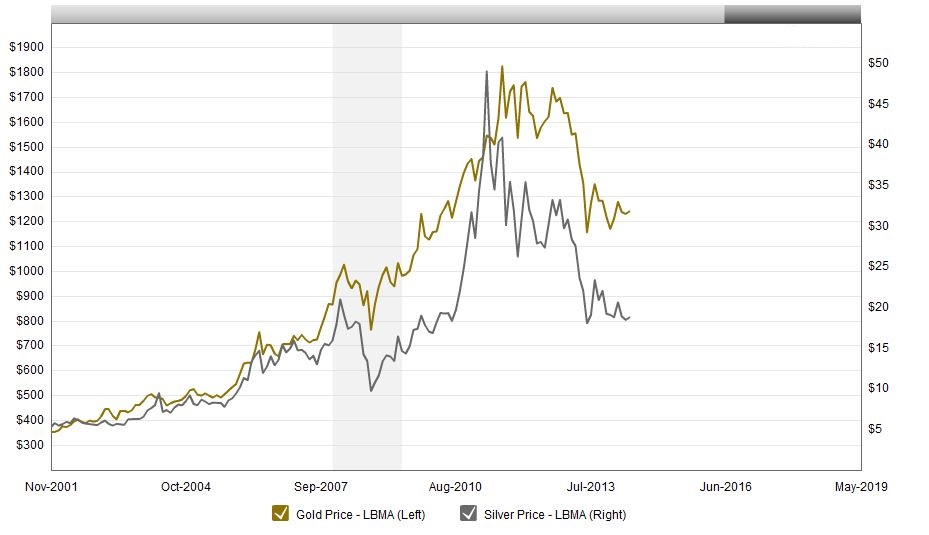 The point is: If you want to replace a piece, your insurer won't want to know what it was worth five, ten, or fifteen years ago. Its current worth is what counts. If you haven't had your jewelry appraised in the last few years, it's time! Appraisal updates don't cost much. They're typically well under a hundred bucks. And anyone who's ever had to rely on one to cash in on an insurance claim will tell you it's a very cheap investment for an incredibly big value.