(If only you could read her mind)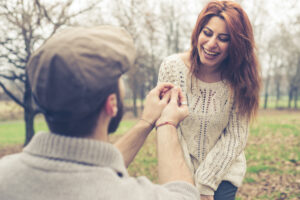 The decision on what type of engagement ring to get usually doesn't come easily. Guys, you're not alone when it comes to stressing out over this. You want it to reflect the love you share. Her excitement can be like throwing gasoline onto the fire of anticipation; you really want to get this right! You two have already traveled so far together and this is a celebration of the miles behind and the wonderful road ahead.
It's relieving to know that it's a bit more common these days for both people to collaborate on what kind of ring to get. Either way it's time for you to step up and start spending some time with your fiancée-to-be to learn what her dream engagement ring is. If you've already talked about getting engaged this should be no problem. If not, you're going to have to be a bit more discrete. A great tactic is to have one of her best friends gather some information for you.
Once you come up with a good idea on what the ring should look like it's essential to make sure it will fit in well with her daily activities. Too many times this factor is ignored and leads to a great looking ring sitting on top of the dresser. Here is a list of steps you can take to get the process going.
Pick the type of band
Choose the right setting and gemstone
Get the right size nailed down
Talk with your fiancée or have one of her friends help gather info
Set a budget
Make sure the ring can be worn comfortably most days
Check the durability of the band
Become a student on diamonds
Choose the right cut of diamond
We are more than happy to help you through every step of purchasing an engagement ring.